Thursday Traditions – The Wedding Cake
Hey bride and grooms! Have you ever witnessed a couple cutting their cake and wondered… how in the world did this tradition start!? We've found this little blip of info for you that goes into the tradition behind the wedding cake ceremony. Check it out, it's pretty neat!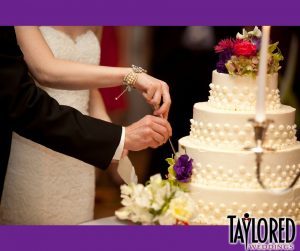 "Beginning in early Roman time, the cake has been a special part of the wedding celebration. A thin loaf was broken over the bride's head at the close of the ceremony to symbolize fertility. The wheat fro which it was made, symbolized fertility as well and so the guests eagerly picked up the crumbs as good luck charms. This tradition evolved and spread to England in the Middle Ages where the guests of a wedding would bring small cakes and stack them together. During this era, it became traditional for the couple to kiss over a small cluster of cakes. Later, a clever baker decided to amass all these small cakes together, covering them with frosting. Thus, the modern tiered cake was born.
The three tiered wedding cake is based on the unusual shape of the spire of Saint Bride's Church n London. The bride and groom make the first cut of the wedding cake to signify sharing their life together. Every guests then eats at least a crumb of the cake to ensure good luck.
The wedding cake, to be shared by the newlyweds and their guests, signifies the 'breaking of the kinship'. The brides knife signifies that the new wife is ready to accept the responsibilities of her role as keeper of the house.
It was also said that if a single woman slept with a piece of wedding cake under her pillow, she will dream of her future husband."
Pretty cool, hey!? Make sure to check out our Facebook page @TayloredWeddings for more traditions like this! 🙂